News & Updates | Just Four Paws Academy of Pet Styling in Erie, PA
Dog Grooming School
Allison D. Graduates from the 600-Hour Program!
Posted on Wednesday, December 5, 2018 at 1:21 PM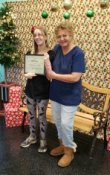 Allison had the following to say about her experience at Just Four Paws Academy of Pet Styling:
"My expereience at Just Four Paws Academy has been an adventure. I loved school and look forward to starting my career in pet grooming. I believe that Just Four Paws Academy has prepared me for my future in grooming. I really enjoyed my time at school and will miss the instructor and friends that I have made at school."
Allison truly has a passion for animals and knows how to communicate with them in a way to make the process easier for, both, the pet and for herself. She is so sweet with the animals, which makes us confident that she will do very well as a pet stylist. Congratulations, Allison!