News & Updates | Just Four Paws Academy of Pet Styling in Erie, PA
Dog Grooming School
Brenda H. Graduates from the 300-Hour Program!
Posted on Monday, September 14, 2020 at 4:04 PM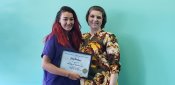 Brenda had the following to say about her experience at Just Four Paws Academy of Pet Styling:
"The 300-hour program at Just Four Paws Academy of Pet Styling has prepared me for success in a future career of pet styling. By working in an actual salon Monday through Friday with my instructor, I had the opportunity to get hands-on-training and experience what a pet stylist's job is really like on a day-to-day basis. During my time here, I learned how to prep, bathe, dry, and style a dog properly. Between learning from my instructor and our textbooks, I learned a lot about the dog grooming process, and more importantly pet safety throught the grooming process. Now that I have completed the course I feel like I am ready to take on a job in the field of pet styling."
Brenda, like many of our graduates, had a job lined up before graduation. She is a sweetheart who has a lot of patience with the dogs and has an eye for making the dogs look perfect. Congratulations, Brenda!