News & Updates | Just Four Paws Academy of Pet Styling in Erie, PA
Dog Grooming School
Caitlin G. Graduates from the 300-Hour Program!
Posted on Monday, June 10, 2019 at 2:00 PM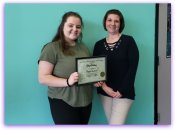 Caitlin had the following to say about her experience at Just Four Paws Academy of Pet Styling:
"I had an amazing experience during my 2 months of schooling. Joyce and all the other groomers were so helpful and welcoming. She is the best teacher I have ever had. I cannot believe how much I actually learned in such a short period of time! It feels like just yesterday I was learning to dremel nails. The program is very well put together which made my experience even better."
Caitlin, like many of our graduates, had a job lined up before graduation and started putting smiles on the faces of customers and pups the very day after she graduated. Way to go, Caitlin!!!