News & Updates | Just Four Paws Academy of Pet Styling in Erie, PA
Dog Grooming School
Courtney S. Graduates from 300-Hour Program!
Posted on Monday, August 20, 2018 at 2:28 PM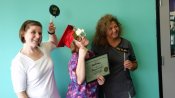 Courtney had the following to say about her experience at Just Four Paws Academy of Pet Styling:
"Ever since I was a child, I have loved dogs and had a furry family of my own. It was not until recently, however, that I considered that being a pet parent is but one way to capture the joy and love that animals bring into our lives. At Just Four Paws Academy of Pet Styling, a rigorous educational program consisting of written instruction, hands-on experience, real-time feedback and a heavy emphasis on professional development taught me that grooming is more than a skill or a trade, but rather an art and a career. Through much patient practice, it has been rewarding to see my skill and confidece level grow with each passing day. More satisfying, however, has been helping four-legged friends look and feel their very best! This program has taught me that pet stylists never stop learning, never stop growing, and never stop finding ways to improve. I look forward to taking the foundational skills I have built here and using them in an ongoing quest to produce my very best work."
With Courtney's desire to learn as much as possible, we know that she will be a true advocate for the pets who have the pleasure to call her their pet stylist!! Way to go, Courtney!!