News & Updates | Just Four Paws Academy of Pet Styling in Erie, PA
Dog Grooming School
Heidi J. Graduates from the 300-Hour Program!
Posted on Tuesday, September 15, 2020 at 4:05 PM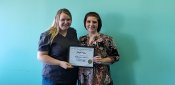 This is what Heidi had to say about her experience at Just Four Paws Academy of Pet Styling:
"During my time at Just Four Paws Academy of Pet Styling I have learned that there is a lot more to grooming dogs than just clipping and scissoring. I've come to find out that some of the most important parts of the process are also the simplest parts, such as bathing and drying. It is amazing what I have learned from the program in such a short amount of time. I went from not even knowing how to brush a dog correctly to completing dogs by myself. Joyce and all the other groomers were very knowledgeable, professional, and welcoming. Learning in a working salon has also been such a huge benefit for me because it shows what the grooming world is really going to be like when I'm on my own. I learned how to deal with customers and how to professionally talk to them about their dogs' needs.
"Being at Just Four Paws has been a true learning experience from the very fierst day I started to the day I graudated. From day one the program has been hands-on, and has catered to each student's pace at which they learn. I would not have wanted to learn how to properly style pets anywhere else or from anyone else. I would recommend this program to anyone who is thinking of pursuing a career in pet styling!"
Heidi came to school with plans of working for herself. She started scheduling clients as soon as she graduated and loves her new career. She was a great student who was very focused on her learning. We know that she will be very successful in the field of pet styling! Congratulations, Heidi!