News & Updates | Just Four Paws Academy of Pet Styling in Erie, PA
Dog Grooming School
Jennifer G. graduates from the 300-Hour Program!
Posted on Wednesday, January 16, 2019 at 3:07 PM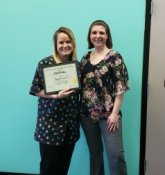 Jennifer had the following to say about her experience at Just Four Paws Academy of Pet Styling:
"I am pleased to say that my time here at the academy was nothing less than what I expected. From the minute that I walked in for the tour through today it has been an Awesome experience. My instructor Joyce, the Administrator Kara and the rest of the staff, was not only professional but very knowledgeable in the business and I learned a great deal from them all...Mainly Joyce. Additionally, if I hear of anyone wanting to go to school to learn to be a groomer, I would not only tell them about Just Four Paws Academy of Pet Styling...I would HIGHLY recommend it. Thank you to EVERYONE who helped along the way!"
Jennifer toured quite a few schools before deciding to make the 1.5-hour drive (each way!) to Just Four Paws Academy! We are so glad she did. She is such a sweetheart and we enjoyed having her here. We are all so proud of Jennifer and know that she will do great in her new career. She is not only focused, but determined - both great qualities in a pet stylist! Way to go, Jennifer!!