News & Updates | Just Four Paws Academy of Pet Styling in Erie, PA
Dog Grooming School
Mallory B. Graduates from 300-Hour Program!
Posted on Thursday, August 30, 2018 at 1:47 PM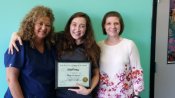 Mallory had the following to say about her experience at Just Four Paws Academy of Pet Styling:
" Attending Just Four Paws Academy has been the most incredible decision I have made so far in my almost 25 years on this earth. I have spent the last 2 months living in a hotel, driving 3 hours to visit home on the weekends and 3 hours back. It has been quite difficult to be alone and away from my friends and family, but it has been so worth it. I feel as though I have grown from a dog lover to a real dog professional. I want to thank my teacher, Joyce, for being patient when we forgot the basics, for sharing her wisdom (dog related - and not), and for genuinely caring about each and every one of us. She has taught us all to believe in ourselves and shaped us into safe and efficient groomers. I also want to thank Kara for all the behind-the-scenes work she does for the school and students. Her organizational skills have made our school paperwork a breeze. She, along with Joyce, and my fellow students have made Just Four Paws Academy feel like home away from home. I also want to thank my parents for encouraging me to follow my dream, as well as helping me make my dream a reality. It has truly been the experience of a lifetime and I will always look back fondly at my time in Erie."
We are all really proud of Mallory! Not only did Mallory put her all into learning as much as she could while she was in school, but she is a lot of fun, so we look forward to hearing about all of her future adventures. Yay, Mallory!