News & Updates | Just Four Paws Academy of Pet Styling in Erie, PA
Dog Grooming School
Mary M. Graduates from the 300-Hour Program!
Posted on Wednesday, September 19, 2018 at 3:44 PM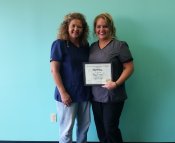 Mary had the following to say about her experience at Just Four Paws Academy of Pet Styling:
"I followed my heart when I decided to go to this school and I truly believe I've found what I was meant to do. As someone who has never worked in the pet industry, I walked into the academy with little to no experience and walked out a trained professional. I am so grateful to have chosen Just Four Paws. My experience was more than I could have dreamt of. I honestly didn't know what to expect but I knew that I was willing to learn and absorb as much as they could teach me. Which is exactly what I did.
Working right alongside Joyce, a professional groomer with over 35 years of experience was the key to my success. I think I'll be reciting "Comb, Comb, Comb" in my brain for the next 40 years. Joyce not only taught me the basics and more, but she also showed me a love for animals that you can't just teach someone. She was more than my teacher, I connected with her which made my learning experience that much more. It takes a very special person to do that.
The program itself is designed for success. Safety is stressed every single day and what I learned about the first week of school and practiced throughout the remaining weeks. Kara, the school administrator, is probably one of the most organized peope I have ever encountered. So, if there was any issue I had with finding resources she went above and beyond to help. If you put in the effort, study and followed the reading while absorbing the techniques the teachers show you and the administrator set up for you, you will leave confident and ready."
We are so happy that Mary found her passion and we know that she will succeed with her future plans.