News & Updates | Just Four Paws Academy of Pet Styling in Erie, PA
Dog Grooming School
Mary M. Graduates from the300-Hour Program!
Posted on Wednesday, December 5, 2018 at 1:28 PM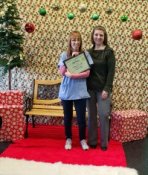 Mary had the following to say about her experience at Just Four Paws Academy of Pet Styling:
"I've always had a passion for animals. I've always felt grateful for my very special pets/babies. I've actually felt bad for people that haven't experienced that special bond you can haave with a dog. They can give us such joy and honest love. My best friends are my dogs Clara and Anna - most sweet, loyal and loving girls I know!! So as you can imagine how happy, excited and how much I appreciated this opportunity to be able to do something I love! I have learned so much! I can say I honestly didn't realize how much was involved in this program! It was a lot of work! Thank goodness for my teacher, Joyce, who helped more than I can say every step of the way! I can only hope to be half as talented as her! And to Sarah who showed me so much and gave me so many tips and encouraging words! And Kara, who always makes it known and comfortable to talk to. Her door is always open. It has been a family here and a great expereience! Love and great thanks to all at [Just] Four Paws Academy!!"
Mary is absolutely thrilled to have found a career that she loves. She told us, at least once a day, how much she was enjoying what she was learning. Her excitement was so rewarding to all of us. She is so soft-spoken and gentle with the dogs that we know her furry clients are going to love her!! Congratulations, Mary!