News & Updates | Just Four Paws Academy of Pet Styling in Erie, PA
Dog Grooming School
Mary S. graduates from the 300-Hour Program!
Posted on Thursday, March 7, 2019 at 3:18 PM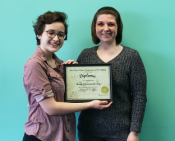 Mary had the following to say about her experience at Just Four Paws Academy of Pet Styling:
"Attending Just Four Paws Academy of Pet Styling was a wonderful blend of academics and hands on experience, simulating on-the-job training. This allowed me to learn anatomy, breed styles, techniques, and more, while also applying this new knowledge.
"I interacted with a great variety of dog breeds and sizes, learned how to apply customer requests with my understanding of pet styles and grooming techniques, and I learned in an active salon with professional groomers. I spent 300 hours in this environment, between January 2, 2019 - March 1, 2019."
Mary did great during her time in the program! We were all very impressed by her styling skills. We all wish her the best of luck as she leaves us to take her skills to Texas!