News & Updates | Just Four Paws Academy of Pet Styling in Erie, PA
Dog Grooming School
Rachel N. Graduates from 600-hour Program!
Posted on Thursday, January 11, 2018 at 12:14 PM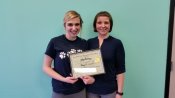 Rachel had the following to say about her experience at Just Four Paws Academy of Pet Styling:
"I attended Just Four Paws Academy of Pet Styling. I am honored that I went to this school. I had two very good teachers. With everything thay have taught me, I feel ready and able to be on my own. They have prepared me very well. Not only did they teach me how to groom, they also taught me a lot about pet safety, health concerns and handling clients. I am proud of the skills they taught me and happy to have chosen this school to prepare me for my career as a pet stylist."