News & Updates | Just Four Paws Academy of Pet Styling in Erie, PA
Dog Grooming School
Renee D. Graduates from 600-hour Program!
Posted on Thursday, May 17, 2018 at 2:48 PM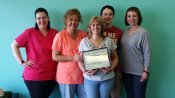 Renee had the following to say about her experience at Just Four Paws Academy of Pet Styling:
"Grooming school has been a wonderful learning experience. The day I started I was nervous. But with the help of my instructor Joyce, I have learned to be a dog groomer. It is a day by day process and I know as I continue in the grooming industry I will continue to learn, based on the strong foundation she has taught me. I have also learned from Sarah how to groom cats. This was a totally different grooming experience that I was very excited to learn. I am looking forward to starting my career thanks to both of these wonderful teachers!"
Renee is in the process of opening her own grooming salon. We know that she will do well!