News & Updates | Just Four Paws Academy of Pet Styling in Erie, PA
Dog Grooming School
Sarah N. Graduates from 600-Hour Program!
Posted on Friday, November 20, 2015 at 5:00 PM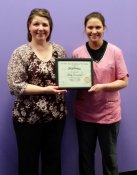 Sarah had the following to say about her experience at Just Four Paws Academy of Pet Styling:
"My experience at Just Four Paws Academy was excellent! I enrolled in the 600 hour program and started a month after I graduated high school. It was a great experience. I would recommend the longer program to anyone interested in becoming a pet groomer. Not only do you learn about grooming but you also learn a lot about the animal behavior and animal CPR."
"I also think the longer course helped me become more confident as a groomer and I learned other groomers' styles and techniques that helped me develop my own style."
"Everyone at Just Four Paws is very nice and helpful. I was treated like I was a groomer from the day I started not just a student. My very first day I had my hands on an animal. My instructor was right with me the entire time. Working with her and the other groomers made me more confident each day. I really feel bonded with everyone there. You really feel like part of the Just Four Paws family."
Sarah will be joining the team of professional pet stylists at Paws 'n Claws in Erie, PA!