News & Updates | Just Four Paws Academy of Pet Styling in Erie, PA
Dog Grooming School
Shelby R. Graduates from the 300-Hour Program!
Posted on Tuesday, June 4, 2019 at 3:38 PM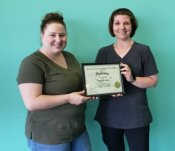 Shelby had the following to say about her experience at Just Four Paws Academy of Pet Styling:
"During my time at Just Four Paws Academy of Pet Stying, I learned far more than I ever imagined. Beginning on the first day I knew I made the right decision in selecting Just Four Paws in helping me pursue my career path. The hands-on approach to learning dog grooming has helped me develop the confidence that I will need to be successful. I can't thank Joyce enough for all of her help and guidance along the way."
Shelby is such a sweet young lady. We have total confidence that Shelby will not only fit in at any salon she works at, but that she will use the skills she learned to make pet happier and healthier throughout her pet styling career!