News & Updates | Just Four Paws Academy of Pet Styling in Erie, PA
Dog Grooming School
Taylor C. Graduates from 300-Hour Program!
Posted on Wednesday, September 5, 2018 at 12:39 PM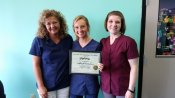 Taylor had the following to say about her experience at Just Four Paws Academy of Pet Styling:
"I thoroughly enjoyed my time spent at Just Four Paws Grooming Academy. I feel as though I learned valuable skills needed to be a successful groomer. My instructor, Joyce, really made my learning experience stand out more than any other learning experience I have had in the past. She has made this possible with her genuine caring personality and heartfelt manner. I feel as though Joyce is also extremely personable with not only her students, but with everyone she encounters. This includes clients and other coworkers and it truly makes a positive environment around her. I also feel as though without Kara and Rob, this milestone in my life would not be possible. I would also like to thnak everyone at Paws and Claws for welcoming me with open arms and making my dream a reality."
Taylor's true passion for working with animals (as is evidenced in her TWO animal-related diplomas - her first being a Vet Assistant) really shows and will be a huge asset for her. We are sure she will do very well in the pet styling field. Way to go, Taylor!